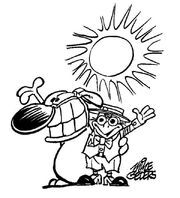 Weatherbird
turned 100 years old on February 11, 2001. Several cartoonist had Weatherbird in their comic. A book about Weatherbird was written that year, too. The picture is one of Mike Peter's drawings for the Weatherbird's birthday. Blondie also had Weatherbird in their comic.
Ad blocker interference detected!
Wikia is a free-to-use site that makes money from advertising. We have a modified experience for viewers using ad blockers

Wikia is not accessible if you've made further modifications. Remove the custom ad blocker rule(s) and the page will load as expected.