At first there were 10-12 silent Birds that would show the weather, but after the first Weatherbird repeated, there were letters of protest. The Birdline is the comment over Weatherbird and is usually six or less words. on an occasion, like a death, Weatherbird is respectively silent. The only only time the Birdline was copied was when there was a tie in an Army/Navy football game. The line was "Army and Navy, Tied and True". Now you can vote online for your favorite line out of several.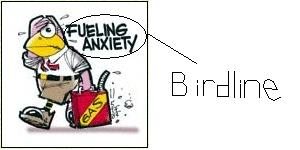 Ad blocker interference detected!
Wikia is a free-to-use site that makes money from advertising. We have a modified experience for viewers using ad blockers

Wikia is not accessible if you've made further modifications. Remove the custom ad blocker rule(s) and the page will load as expected.